From 2017-10-01 to 2017-10-08 artist is on vacation.
Shipping of purchased products may be delayed.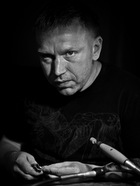 My name is Dariusz Zacharzewski, I specialise in designing and making silver jewelery.
I am creative person and enjoy very much implementing my ideas and witnessing the creative process throughout the beginning to the end.Although my main material is silver, my disigns can also contain leather. Combining leather and metal allows me to express transience and permanence together. Working with metals enables me especially to feel that I am creating the constant , something that will last. All my jewelery is hand-made which gives it its very own unique character. The original theme of my disigns, as well as my meticulous attention to detail ,have allowed me to develop a unique style of jewelery making .In my work I strive for perfection. That involves constant learning and developing my skills. I take both pride and pleasure in my work and I am always looking for new challenges.