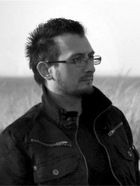 Luke deals with designing jewelry for 10 years. Many times he participated in major trade fairs and competitions jewelery (Amberif Gold Silver Time). His undoubted specialization has become a perfect combination of exotic wood, Baltic amber and silver.
Each project can be seen creative approach to ambient art which already is drawing disks for even grain or wood structure. Artist perfect addition to materials processing, can choose the perfect type of ornament used, which only emphasizes the uniqueness of the whole.
Pure form and the perfect combination of three material - this combination full of positive energy that makes artistic jewelery the studio Luke chamois is always a great choice.
Gallery Olissima