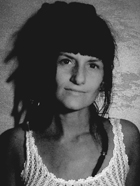 There are three things that make me happy - people I love, traveling and creating. Now I can say that I have everything - a wonderful family, an opportunity to travel and a great place where I can realize all my artistic ideas - my studio in Warsaw.
Making jewellery is my means of dialogue with the world. In creating I can find almost everything - beauty, harmony, energy, power of the four elements and alchemy of matter...
Sometimes I have authority over the matter, and sometimes material overcomes me. It teaches me patience and humility, and makes me want to take up new challenges.
The most attractive in the creation of jewellery is that there is an infinite number of combinations! The unlimited possibilities give me a real sense of freedom...