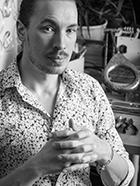 I admire tasteful elegance with a touch of splendour. Jewelry is my medium to combine craftsmanship with transient impressions and emotions. Each detail has its importance and each of them tells its own story. It is my passion, which makes me breathe deeply and develop. The hours spent at my workshop resemble a kind of meditation filled with patience and precision.
The surrounding world is filled with colours, shapes and words. It happens that a single line, a part of a tune let the creating of a particular form begin. Everything I assimilate during each day, leaves its mark in my memory, and gets out while working in my workshop. This process is usually spontaneous, without any projects or other unnecessary background – I look through my gems reserves and let it happen. Sometimes an idea appears when I'm falling asleep. This is when a sketch is needed, to not forget the image.
As a self-taught silversmith I have worked out my own technique over the years and evolved a unique style. High quality of components and precise workmanship is where I place importance. The jewelry, d in a complex process is unique and intricate. It is a permanent bit of beauty, which will keep evoking smiles and memories for long years.
You're welcome to visit my colorful world of passion and imagination!
Bart