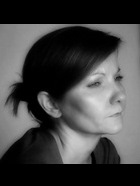 Designer by profession (Secondary School of Fine Art Lublin, LOCF Fashion London, Art and Design Foundation Studies London, Textile Design with Marketing London) and author of things which are beautiful and unique, the bottom of my heart.
I came across this laborious technique by accident when I needed a change my everyday life as a mother of three kids running the whole house. It seems to me that we came to like each other right away.
All of my unique jewellery is designed and impeccably hand sown by myself in a technique called soutache (in Polish sutasz) which dates back to ancient China. This technique is based on assembling, by needlework, of silky, cotton or viscose cords and weaving between them cabochons, crystals, stones or beads.
My jewellery is inspired by folklore, nature, art and is influenced by fashion trends and is made in single copies. I am still searching for new forms, patterns and colors.