Olissima Gallery in collaboration with the Antidotum is pleased to invite you to watch presented in the gallery of jewelery made by alumni and faculty Antodotum: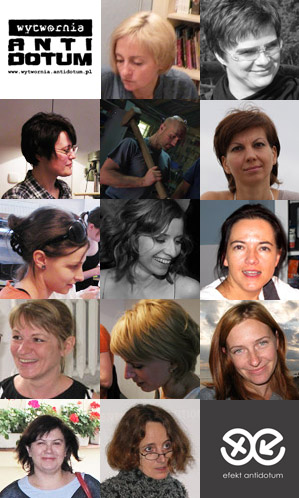 ANTIDOTUM - is the first private, goldmisth school in Poland and was founded in 2006. Every year, the studio scrolls over 100 people participating in the activities of various types. We offer courses for all levels and areas: gold, which prepare for independent work as a goldsmith and jeweler, historical reconstruction, which allow you to create jewelry inspired by the works of Old Masters, Art Clay - for those who love to create ornaments of silver in the form of plastelinopodobnej clay, workshops, hobby - for those interested in creating a simple, popular jewelry, including wire, felt, Fimo, soutache, ceramics, etc. We offer additional courses: repusowania, perspective drawing for jewelers and amber, enamel and making glass beads technique Murano Lampwork and Millefiori. Learning to run in small groups or individually, according to. We developed the curriculum.
All our students, in addition to participation in the basic course, they also have the opportunity to participate in a creative course that develops their creative possibilities, and in numerous lectures from related fields (including art history, law assay, safety regulations, materials, marketing and advertising, etc. .).
Every year, in collaboration with renowned Italian school of Le Arti Orafe goldsmith of Florence is hosting a contest Fresh Metal.
Studio teachers are active and well-known jewelry artist with years of experience, successfully engaged in their own design studios among others: Remigiusz Grodzicki, Roman Kowalkowski, Peter Ryan, Casper Schiffers, Robert Glass, Elisabetta Cappello, Alina Tyro-Niezgoda and Jaroslaw Westermark. Creative activities leading graduate of Fine Arts in Warsaw, Paulina Tyro-Niezgoda.
Laboratory located in Mokotow district, near the lovely Marine Park Eye. 150 m2 area in total we use in our students: three gold rooms with full equipment, rooms: Machinery, historical reconstructions, Art Clay, hobby workshops and lectures are located all the necessary tools and equipment.
Students present work at trade fairs, exhibitions and the online gallery antidote effect, in which the present work the best students and graduates and teachers label. In 2011, we have partnered with Gallery Olissima by which these unique, selected works, we can provide a wider audience.

We invite you to watch them and of course shopping :)
Currently in the Gallery Olissima present work:
Subsequent authors appear shortly.